I have had a girl-crush on Jessica Simpson since 1999 when she announced she was going to stay a virgin until marriage. Something was different about her than Britney and Christina and I took a liking to her. I drew her in my art class, tried to constantly dress like her and was completely inspired by her. When NewlyWeds premiered, to say I was addicted was an understatment. I never missed it. I bought all of her CDs and knew all the words to every song.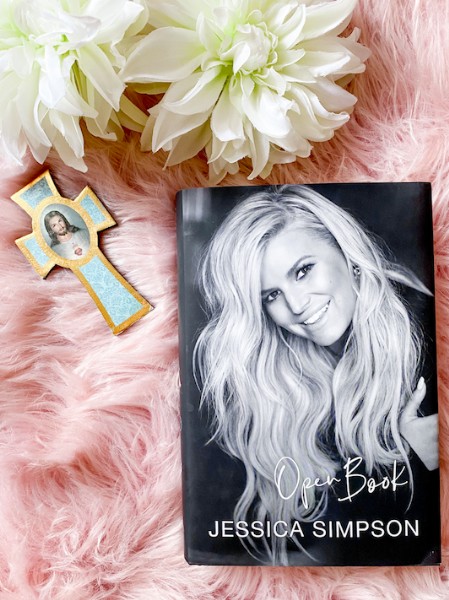 My friend Gina and I went to see her at a concert at Washington Township high school, we had front-row seats and I was in AWE!!! Then in 2004 my friend Debbie and I saw her at Walmart (which she talks about in the book). At this time she was definitnely on the rise in season 2 of NewlyWeds and the release of "With You". We literally went from a flight from Cancun right to Walmart to see her haha. Sadly the line was SOO long to meet her, we got pictures of her though and had to leave. So I never met her ° so sad. When NewlyWeds ended, so did her and Nick which of course I was heartbroken. I followed her career and love-life avidly for years. Her country album, Do You Know released in 2009 was easily my favorite album of hers.
LOL this was 2009 in Las Vegas!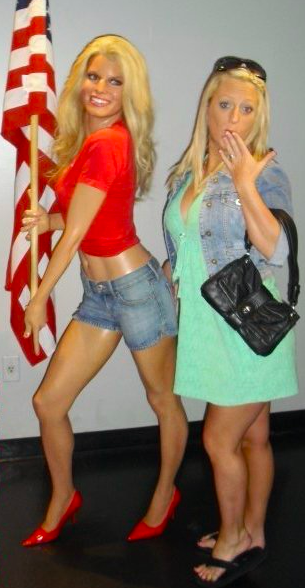 I loved her show in 2010, The Price of Beauty. My friend Rosaana and I would watch religiously every week. If that wasn't on we would sit in her kitchen, drinking wine, doing our nails and would BINGE re-runs of NewlyWeds. Also this year, my cousin told me her boss was Jessica's hair dresser and she had hung out with her MANY times. So Christmas that year my cousin brought me a back-stage pass with Jessica's autograph° yup I was 26 years old and still in awe.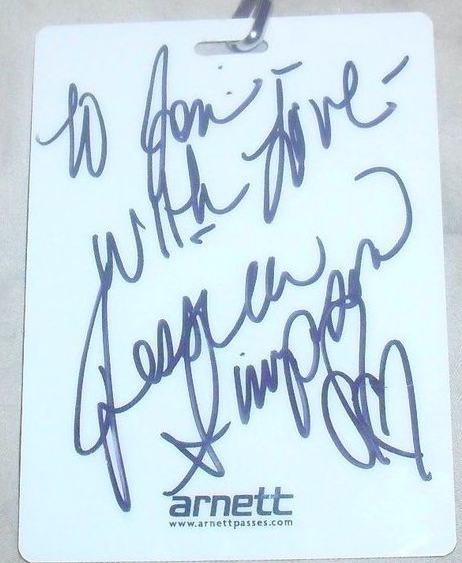 At this point, she had started dating Eric and I became infatuated with following them on Twitter. She was the first and almost only account I followed for a while. Haha. I loved how private her life was, even when it wasn't. Rumors flew about her and Nick, Johnny, John and Tony but nothing was ever confirmed. Which is why when she announced she was releasing a tell-all I was like YES now we will all know the truth.
...
I pre-ordered the book in November for a February 4th release. I came home from happy hour that evening and read for 4 hours, I finished it the next night. Yes 450 pages in two days, I was cross-eyed. My initial feedback was that the writing was a little rocky at first but it became smoother after a chapter or two. I like how she opened the book, talking about the worst day first, the "intervention". She was very open and honest about her actions, what she felt and her friend's responses. Ironically, my cousin's boss, Rita Hazan, was there doing her hair during the inter-friention, I of course did not know this until reading the book.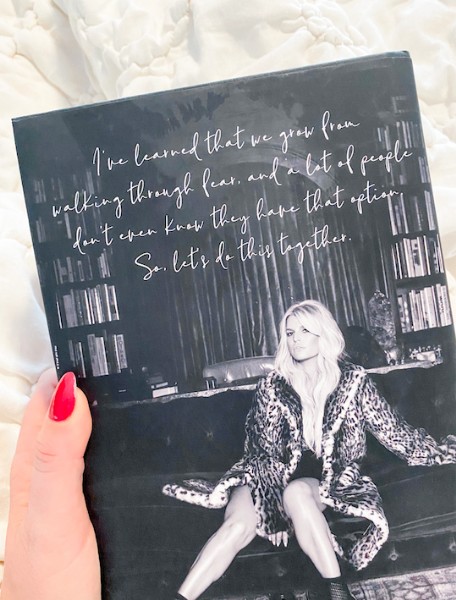 I felt like I already knew a lot about Jess (yes I call her Jess haha) since following her from the time she was 17 years old. But she admits a lot that was not exposed until now like her sexual abuse or the details of her cousins death. I always knew she was faithful growing up in a very religious home, but the fact that she has carried that strength throughout her 39 years was really evident in the memoir. After her cousin passed away (so tragically and shocking) Jessica began journaling on the regular, and I am obsessed with the idea. I blog which is great but a lot of the time I don't put that personal of information or a daily prayer on here, which I should!
...
Nothing from the beginning of her stardom really shocked me. "Lose 15 lbs, show more skin, become sex object"° yes all seems about right to me. Even the reason for the divorce did not shock me. He seemed to become jealous of her rising fame and ended up disliking her almost to the point of hate. I actually went back and watched a few episodes of NewlyWeds and was like WOW it really is evident he did not like her. She said they became their roles even in their lives, which I would imagine was easy to do considering the first through 3rd year of marriage was all on TV for the world to see. But I will say this, she was herself in the beginning and America took a genuine love to her open and honest-ness and we all fell in love. Instead of Nick being a happy supportive husband he was jealous of her video budgets, and constant being on the road. At this point, 98 Degrees was no more.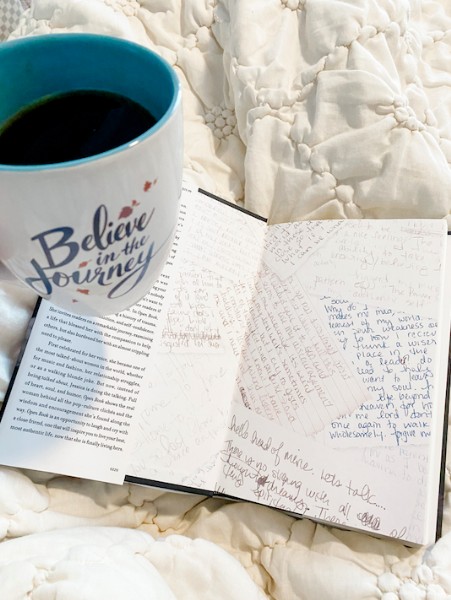 The part that affected me the most was her relationship with John Mayer, or "relationSHIT". Again, we have all heard the rumors, especially about what a shitty person Mayer is° see Katy Perry, Jennifer Aniston and Taylor Swift. But I was more upset that she let it go on for so long and allowed the abuse. He never hit her, but verbally abused her time and time again and ruined special moments for her. But eventually I thought Ok Jess now it's your own damn fault. They broke up 9 times in about 2 years. Then she started dating Tony Romo, who seemed to be a little insecure telling her she could not kiss men in any movies she was cast in.. LOL ok. She realized she did not love him enough to give up her career and I feel like she probably would have ended it anyway but he broke up with her the day before her birthday because he went through her phone and saw an email from JM talking about the BBQ at her parents. She was there, she did see him but she did not tell Tony. She left Tony's and ran right to John's after he told her in front of her whole family how much he loved her and wanted to be with her, she too was in love with him. When she got there, he basically told her he was grateful she was back because he could not come up with any good musical content without the emotional ups and downs of their relationships° basically she was a muse and that was it. He did not love her. It was really sickening and sad to read. Then he did an interview calling her sexual napalm and saying how he wanted to snort her. He was infatuated and addicted to her, not in love. She felt dirty. I would too.
...
I love the way she met Eric, just a casual night at her house for a basketball game. They start talking about pooping pigs (you just have to read it lol) and talked for hours. They slept together the first night° look at that ladies° see some guys are not children and can handle a mature sexual relationship! He moved in two months later and they both wanted to start a family and started trying right away. Jess had some medical issues early on and had an ovary removed, so she could only get pregnant every other month in a nutshell. Well with both her kids, she got pregnant on that "off month". The egg somehow jumped over to the other falopian tube, the one she had, to be spermed haha. She was happy and shocked both times. They seemed perfect, her life seemed perfect but no one knew how intoxicated she was° well until the Ellen interview, yikes. She was consistently taking sleeping pills since 15, and then was prescribed a stimlant (she never says which but I assume adderall) so she should drink for hours without getting tired or passing out. Until the Dr. said, the stimulant or the Ambien, I cannot give you both you are killing yourself slowly with the drugs and alcohol. This all took a head when she was going to have a tummy tuck for stretch marks and loose skin. In 2017 on Halloween she began drinking at 7:30am and does not recall who got her kids ready. She was trashed. She had an emotional conversation with her father and completely shut down. That was the day she stopped drinking. Well technically 11/1/17 was her last drink.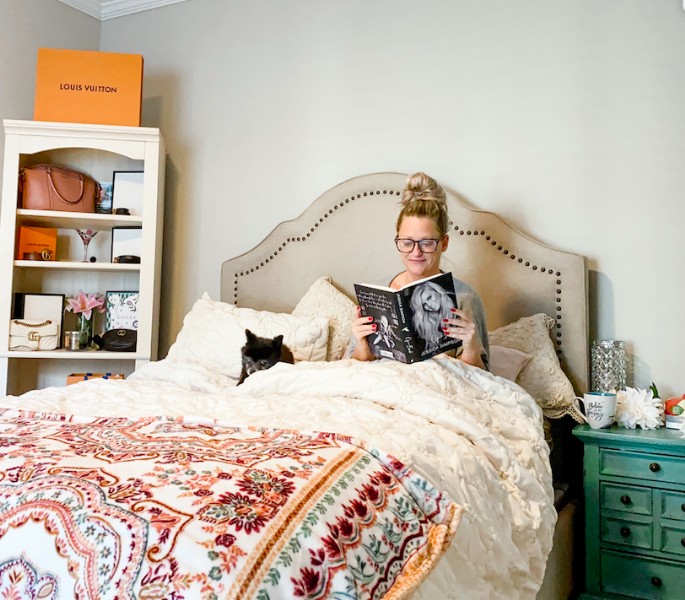 I loved Open Book. I love her, I love her honesty and she inspired me to walk away from toxicity and to hold onto faith beacause God is always working behind the scenes. We may not feel it through the pain, but we need to go through it to get to where we are meant to be. Her book sold out on Amazon and was #1 on the iBooks list the first week of the release. I am so happy for her. She built an amazing clothing empire that she threw herself into during times of pain and it has been so successful... a billion dollars successful. I think Open Book will help a lot of people face their past, confront their ghosts and hopefully move on with their heads held high with a new horizon in sight.
XO, Cheers!
Jenn