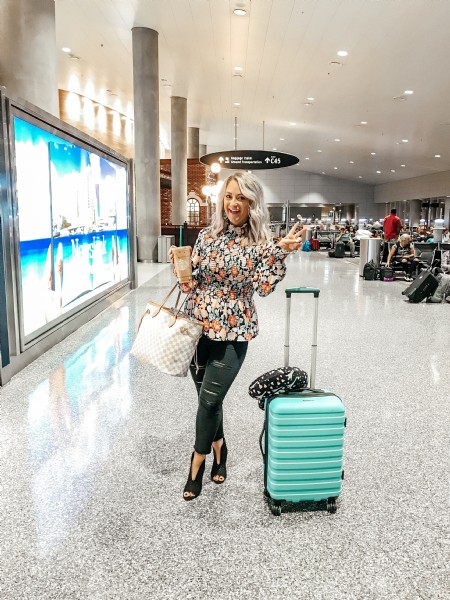 Since I started my blog in 2016 it has always been a goal of mine to go to New York Fashion Week. I had no idea what it entailed to go or what would need to happen I just knew I wanted to be like Carrie Bradshaw, front and center.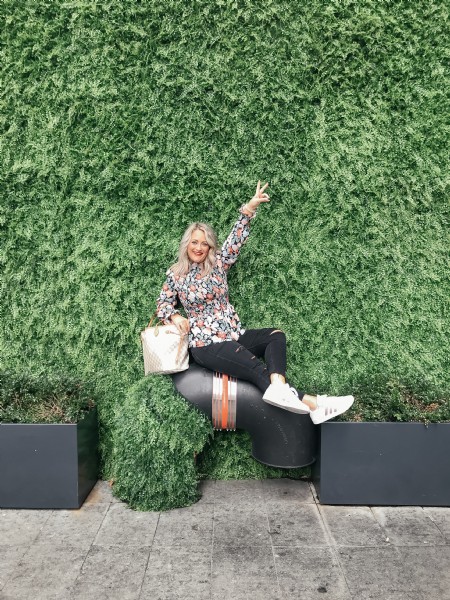 In 2017 and 2018 I started on the slimmer end by taking on Miami Swimweek. Those seemed to be pretty successful so for 2019 we decided we were doing NYWF in September. This is the show where they reveal springs and summer 2020 styles.
We started planning in July. What I did not know was anyone can go to fashion week, but you need to be invited to the shows. Ok great. Step one, find out who will be going with you and staying with you. Step two, find a place to stay. We emailed multiple hotels for collabs in exchage for a free stay but since we are micro-influencers at this point and fashion week is just "too busy" for them to give a room away we were going to need to pay. Luckily for myself, Tamy and Christina I travel a lot for work and had a few thousand points to use on a Hilton. Not enough for the whole time, but enough to take about $350 off. We ended up booking at the Doubletree Times Square West. I figured anywhere in Times Square was a good location.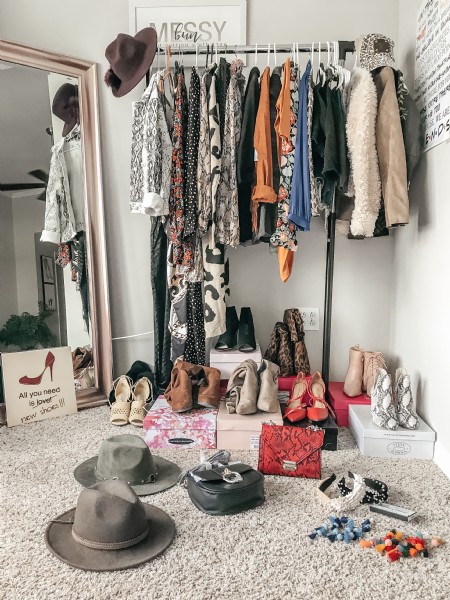 The next step is to start building your wardrobe. I partner with JustFab and ShoeDazzle so they sent me a selection of fantastic styles to wear during the week. I also bought items from the N sale and Vici Collection for the trip. Amongst all of this, you need to research PR companies to get on the list for the shows. Tamy, of VStylist took the lead on this because I was so busy with my full time job. It tooks weeks to hear back and get added to list. By the week of we did have 5 confirmed shows and two parties.
Once that was set, I started planning my looks. I literally bought a large mirror and a clothing rack to keep myself organized. I tried on and took photos of everything I planned. My Vici items did not come in until 8pm the night before I left haha. I threw them in the suitcase and hoped for the best. My photographer was coming too so I was going to do some small shoots as well. I brought only low heeled booties (boots), and sneakers to New York and so glad I did. It is a ton of walking as you can expect. I also had roll-up flats in my bags at all times.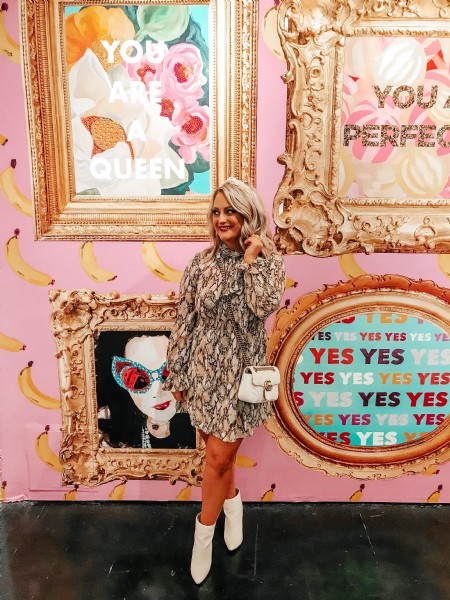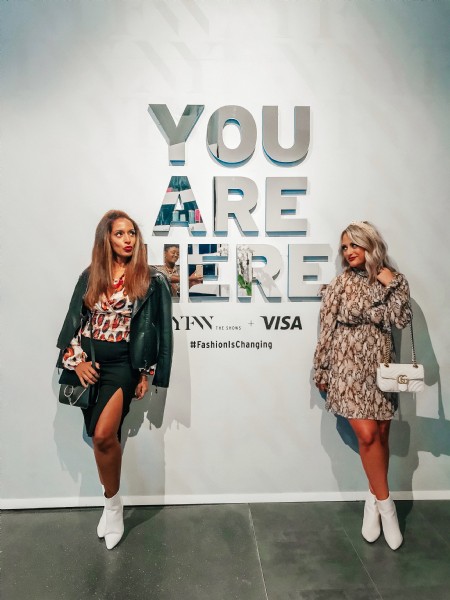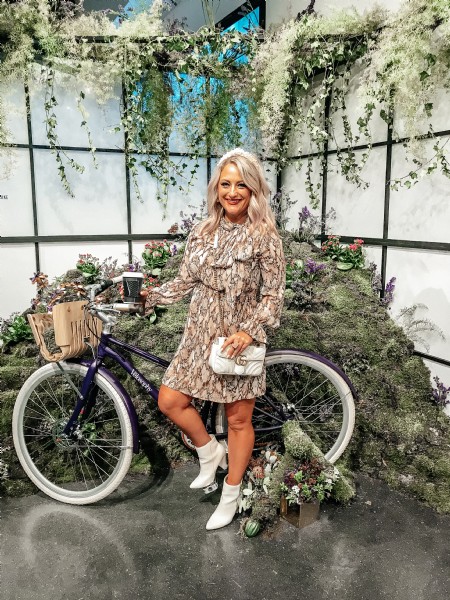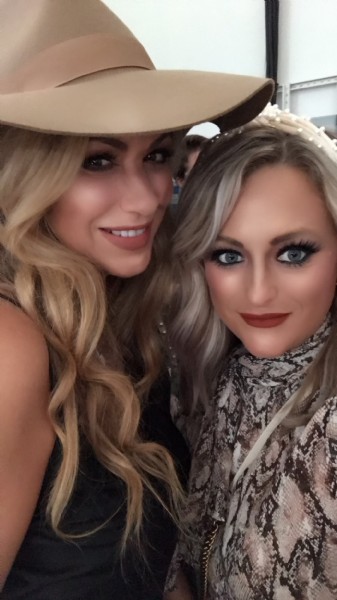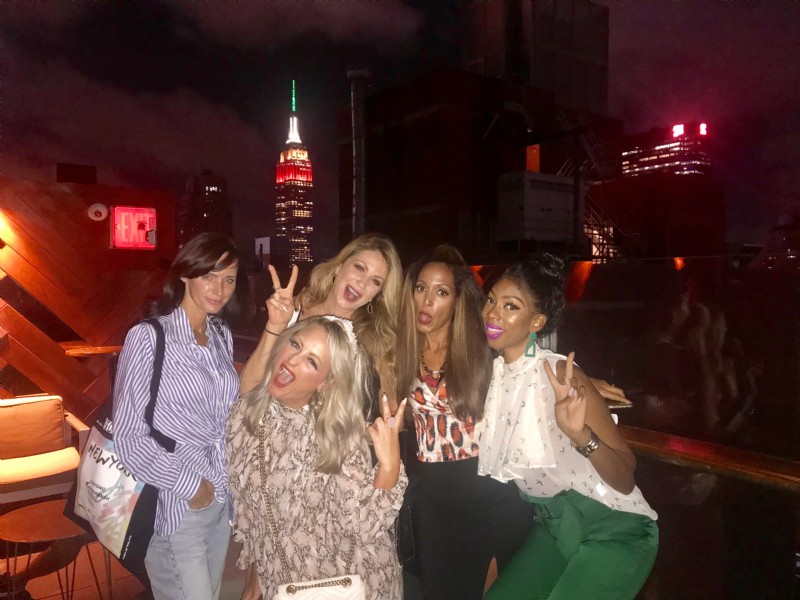 When we first got there, we checked out the area and had a bite. When we went back to the hotel to check in we were flabbergasted by how tiny the room was and how many of us there were. YIKES! We made it work. We literally had suitcases, bags, shoes etc stored in every crevest in that room. We unpacked, walked to the wine store, stocked up then started getting ready for the first (and my only) show. We were late (the traffic in NYC is insane, you have to leave 30 min before you even plan on leaving). We were able to catch the last 5 minutes of the first show at the Chelsea pier. We had invites for the next show as well as one at Spring Studios. We decided to leave and head to Spring Studios which was much better than Chelsea Pier but the Liu Young show WAS NOT. I was quite disappointed, the designs were nothing that I would, or probably anyone else would wear. It was a little artsy but mostly hideous. We then we back to our rooftop bar at the hotel for a drink and ended our night slightly early since we had all been up since 4am.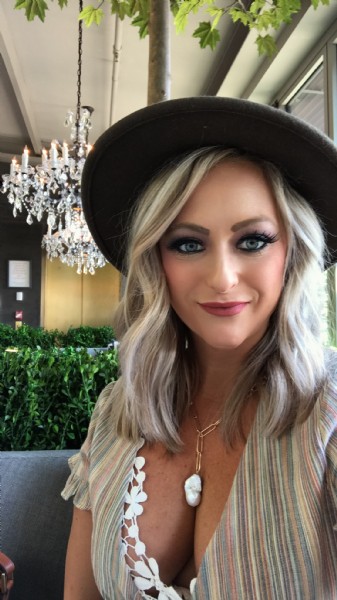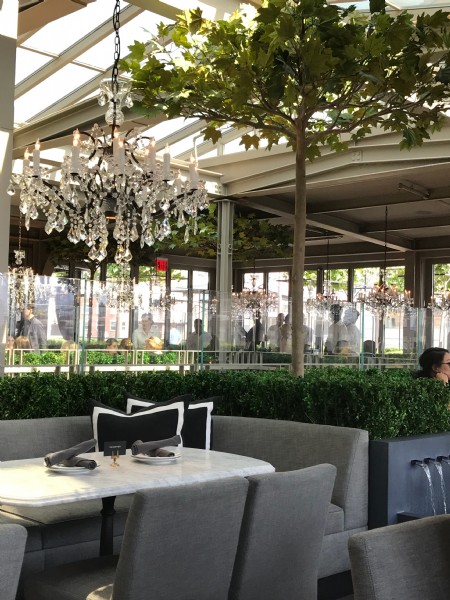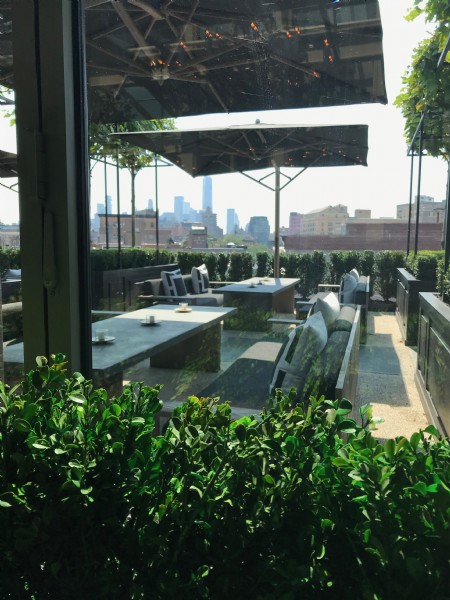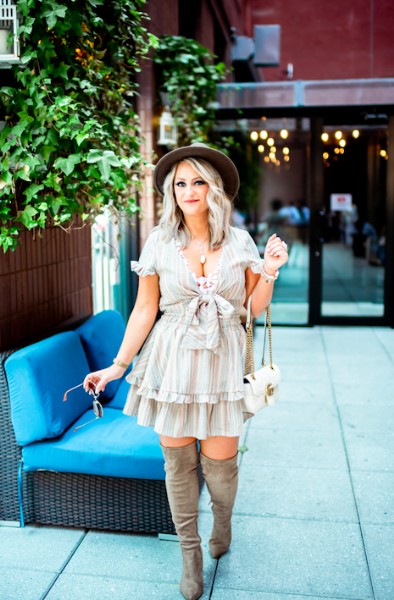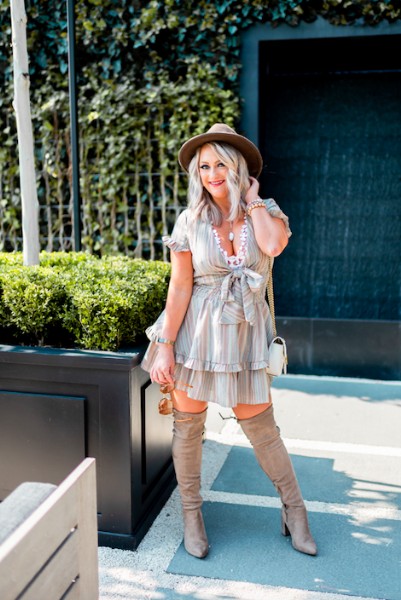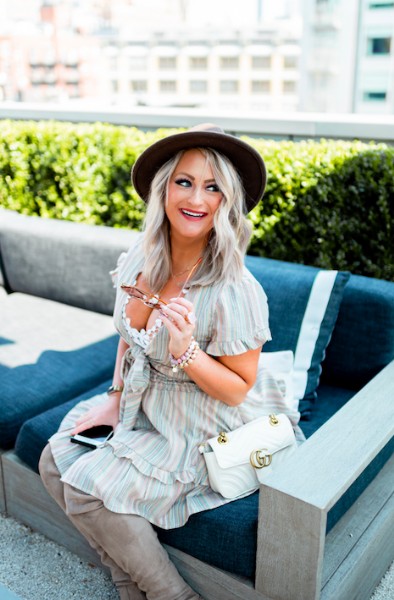 Day two! We all slept in til about 9am and headed to RH (Restoration Hardware) Rooftop for lunch around 1:30 in SoHo. It was breathtaking! We had a delicious lunch, did a quick shoot then by the time we were done lunch it was like 3:30pm and there was a show at 6. We got changed and ran to Times Square to do a quick shoot there, it actually was my favorite one.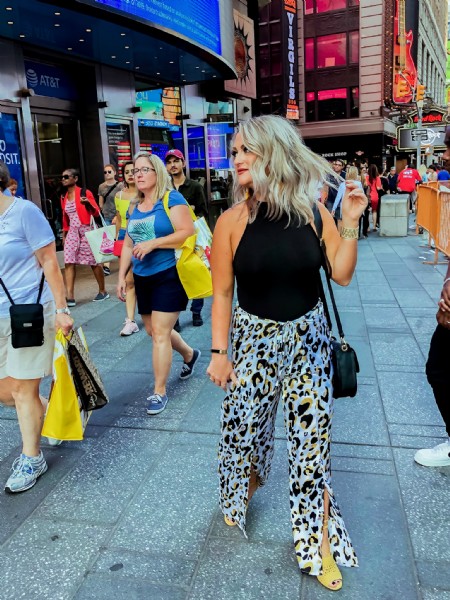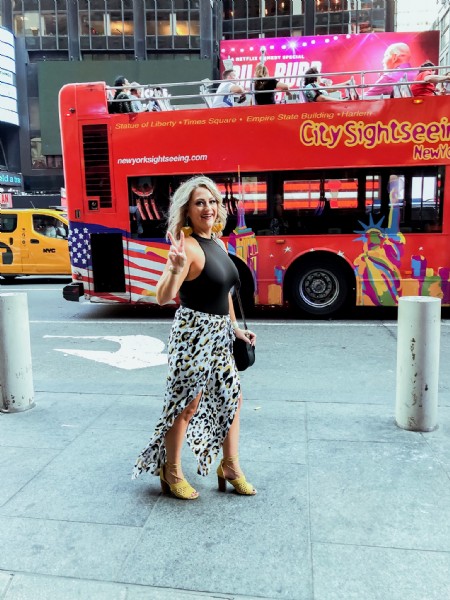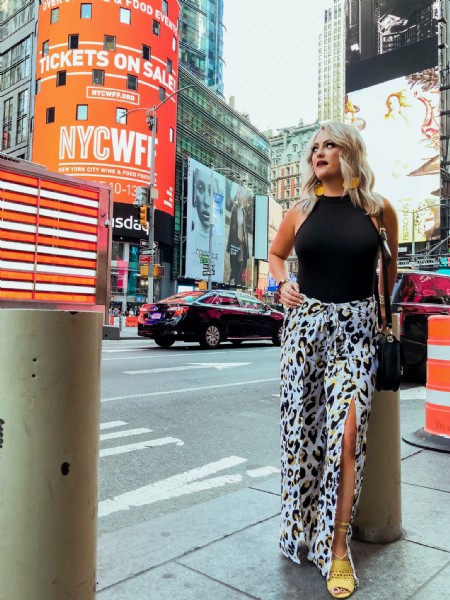 I did not make it to that show because I decided to have dinner with Dan's friend instead at a Korean BBQ place in midtown. I put down a bottle of red wine headed back around 9:30 and was passed out by 10pm. LOL. So many things to do, so little time honestly!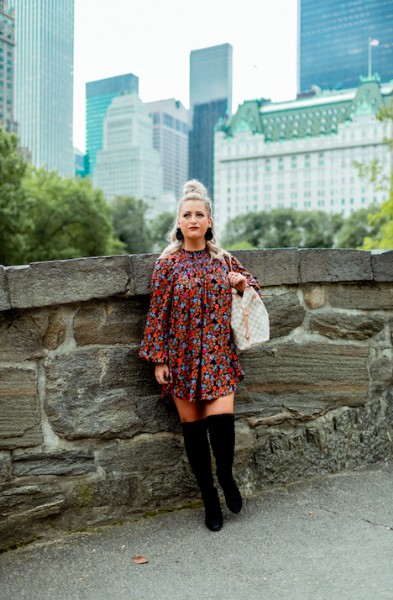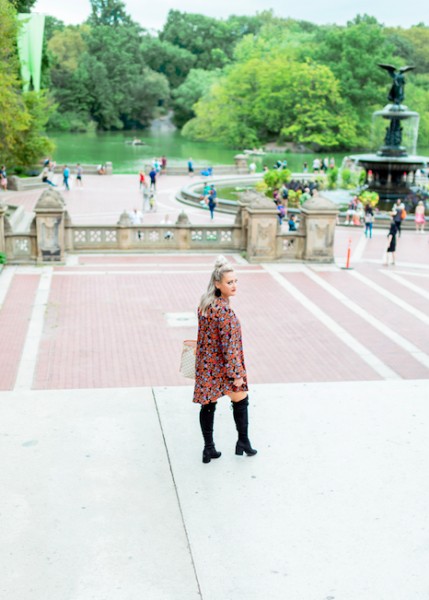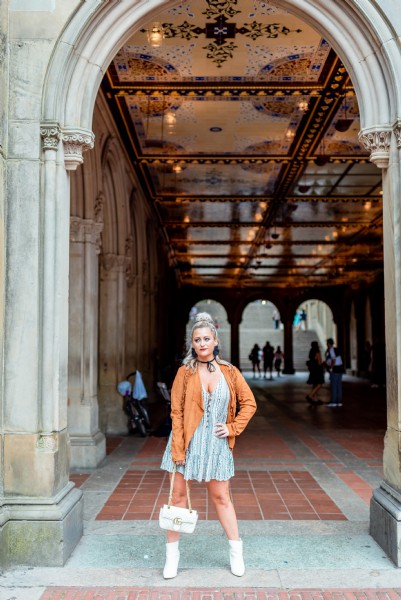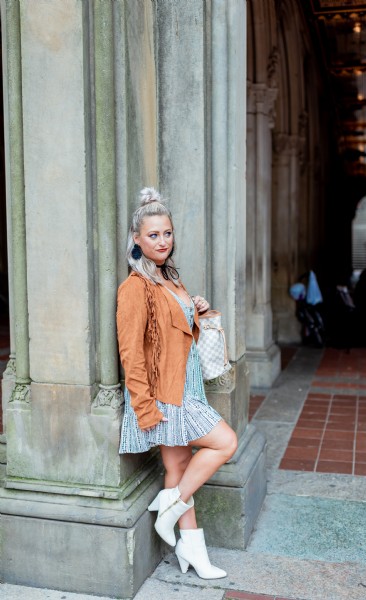 The last day there were not any shows scheduled just a wrap up party 6:30-10pm. So we got up and took a cab to Central Park where we did I did a two-outfit photoshoot, one being at the Bethesda Terrace where Blair and Chuck got married. My feet were starting to scream. I was so thankful for the flats but they were soooo flat they almost hurt MORE. After we walked a mile and a half, which doesn't seem that long but it was FAR to get Joe's pizza. I had barely eaten in the time I had been there by this point so I was eating the pizza and a lot of it. Finally we made it, ate and I was SPENT. We went back to the room to nap and then got ready for the party around 8pm. It was just ok. Met some really nice girls, had a $20 drink then found a cute little wine and cheese place up the street. Joy and I killed an amazing bottle, we had some great conversation and just like that we were in bed and leaving at 9am for the airport. So, fashion weekÃ'° I did ONE show. LOL. There is just so much to do in so little time and it's exhausting.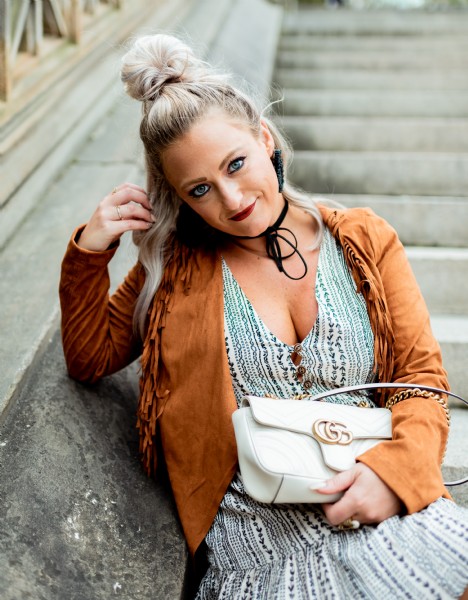 I did not make it to Brooklyn, we did not make it to the ShopBob pop-up, I also wanted to head down to see the FRIENDS location but the time is so short. I would say the first year was successful but I definitely would like to plan things a little more for next time.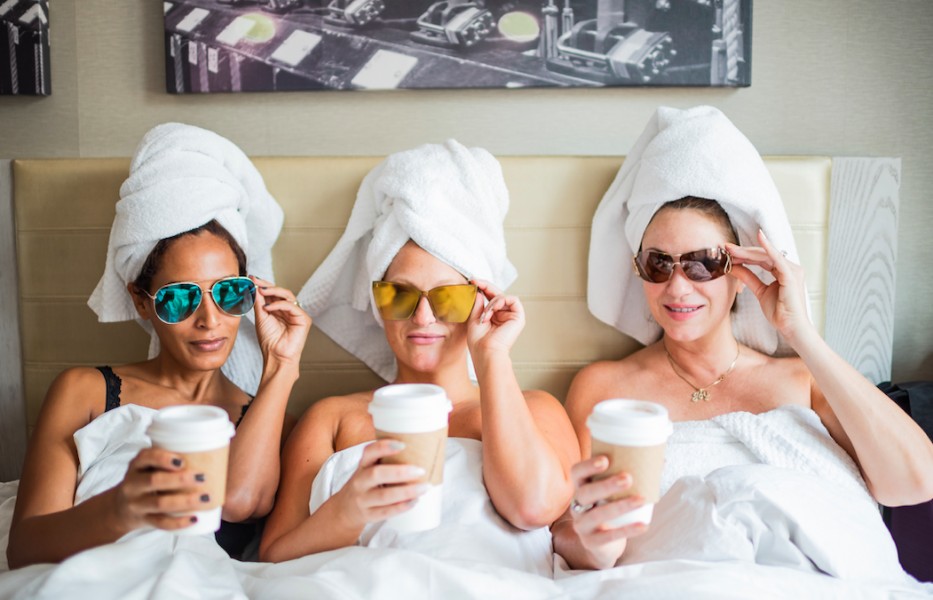 Now I am pooped and ready to nap all weekend :)
I want to thank JustFab, ShoeDazzle, Erika Williner Designs, You Glow Spray Tanning for sponsoring me for NYFW! You made me look and feel like a million bucks, thank you!
XO, Cheers!
Jenn
Photos by Christina Jones
Shop all my looks on Liketoknow.It