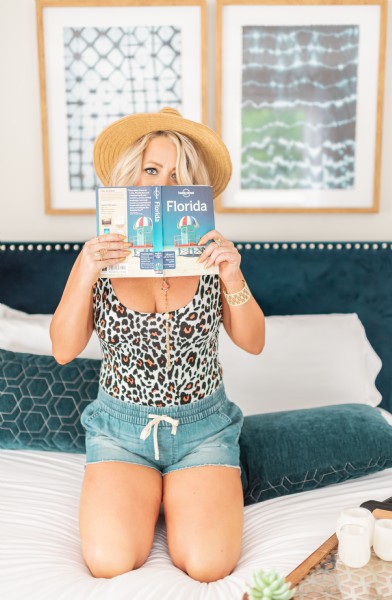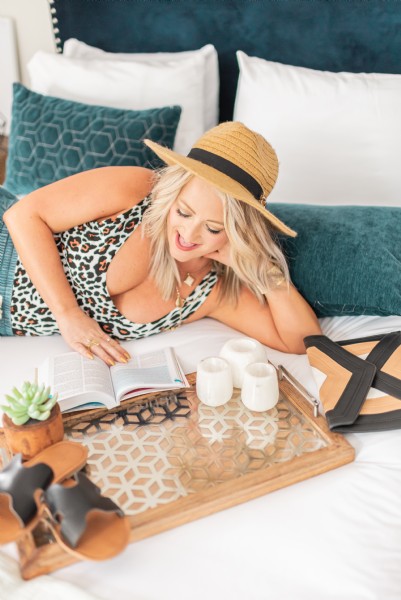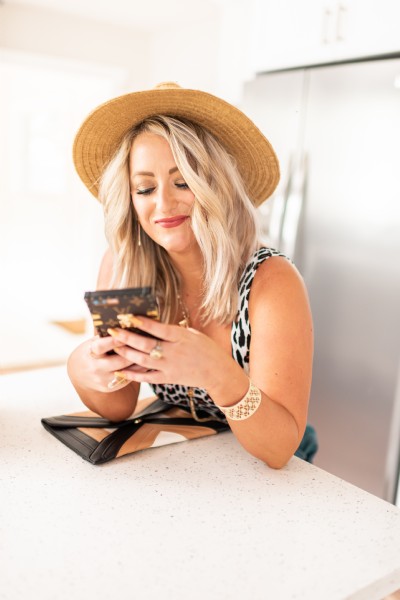 Photos by Christina Jones Photo
Topshop Leopard Bodysuit | Wearing Med but should be a SM
Levi Denim Shorts | Med
Wid-brim Hat | One Size
Universal Thread Sandals
I moved to Florida 6 years ago, first to Jacksonville & then 5 years ago to Tampa. Jacksonville was not my cup of tea, at all. It was difficult to make friends and the beaches were just very "Jersey-ish". I don't want to throw shade at Jax but I am just a west coast girl. My grandmother lived in Port Charlotte and I always loved the gulf coast.
When I moved here, I met friends very quickly. My aunt and uncle lived in Clearwater so I adopted the guys who worked for my uncle first as my buddies. Then I met Dan (haha crazy right?!) and Roberta within the first week of living here. I fell in love right away.
There is so much to do in Tampa. The beaches are gorgeous and everything is like 20 minutes away, seriously. I currently live overlooking the bay in Rocky Point which is the mid-point to all the highways in Tampa. It is so easy for me to get everywhere. I want to share some of my favorite places in the Tampa Bay area with you.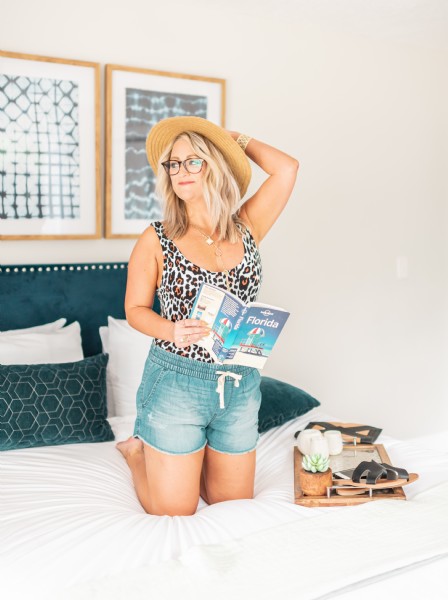 T A M P A B A Y
Downtown St. Petersburg haha I know, it's not Tampa but close enough! I love DTSP because it's very artsy, always has something going on, is super clean and trendy. I love going to dinner or having drinks on Beach Dr. I also love the low key bars on Central as well as the boutiques there. We like walking at North Shore Beach which is a little beach and sidewalk along Tampa Bay.

International Plaza; the best mall :) Well, one of the best malls. This is a higher-end mall, and it's huge. It has every store known to man (Or so it feels). I also love the restaurants they have which are more outside than inside the mall. My new favorite is Whiskey Cake, they have a great happy hour. I also love Doc B's because they have candied bacon at the bar! The Nordstrom here is really good, and they always have fashion events going on.

Downtown Riverwalk; I love running the walkway that lines the bay and downtown Tampa. It is really starting to build up there but still a very quiet city. They have a cute place called Armature Works which is like a warehouse bar/restaurant and outside area on the north side of the riverwalk. They opened a cute rooftop bar there are well called M Bird. One of my other favorite places downtown is Gin Joint, it's so 1950's and everyone stays in character. Love it.

Take a walk on Bayshore BLVD. It is another sidewalk that lines the whole bay and loops you onto riverwalk/downtown. The views are incredible and the houses are to die for.

After your walk, pop into Bar Taco or Buddy Brew in Hyde Park Village. Bar Taco has great tacos and fabulous cocktails. Buddy Brew has the best coffee and teas in town. You can also snag a cupcake from Sprinkles Cupcakes or take a cooking class at Sur La Table. They have a fun-tastic movie theater called Cinebistro where you can have a fancy din and cocktails while viewing your fave flick. Tickets cost about $22, drinks are around $10 a pop and dinner you're looking at $18-30.

Rent a jetski or bronze your skin at the Marriott Sand Key. I love their pool and the beach bar there. It's a chill vibe and no charge unless you're ordering. They have cabanas to rent and fun for the kids. The Columbia restaurant is right next door and is a Tampa staple.

Of course you must see the beaches in Clearwater and St. Pete. Eat lunch at Frenchies and have dinner at my fave hole in the wall Cristinos. It's a little Italian restaurant with VERY authentic food and great prices.

Watch a Phillies pre-season game at Spectrum Stadium in Clearwater. It has a great tiki bar in the left outfield and you can even buy your bar seat overlooking the stadium. They have Tony Luke's cheesesteaks and lots of Philly fans!

Rent a kayak on the Dunedin Causeway and travel over to Honeymoon Island. From there take it on over to Caladesi Island and have some lunch and beers before your ride back. You get to see the amazing views, find some cool shells and see some interesting creatures along the way.

Lastly, go spend an adventurous day at Busch Gardens. I am a Disney girl as most of you know, but it's reasonably priced and right in town. They have a concert series in the summer and other events throughout the year.
XO, Cheers!
Jenn