Sorry I have been MIA y'all. I just have not been motivated to write, if I am being completely transparent, which I am. But I thought doing a blog on Arizona would help get me going. I generally like to choose at LEAST one place to visit that I have never been every year. 2021 I am making up for 2020 haha, with already 5 trips booked :) The first one I took (aside from NJ) was to Scottsdale and Sedona, AZ. I have always wanted to go out there and I have a blogger friend who I have been chatting with for 2 years now. I knew she wasn't a serial killer or psycho bitch so I said hey Niki I am coming out, let's do it up.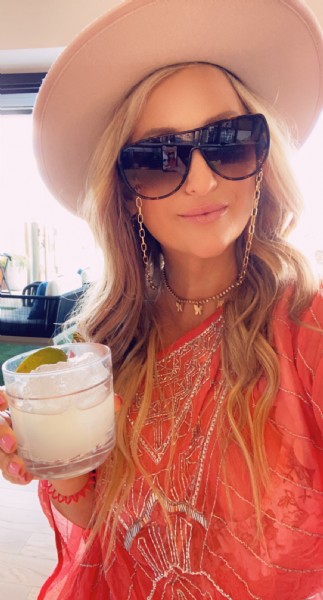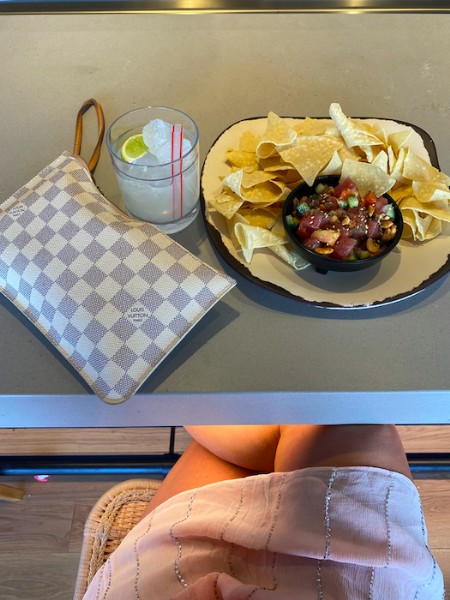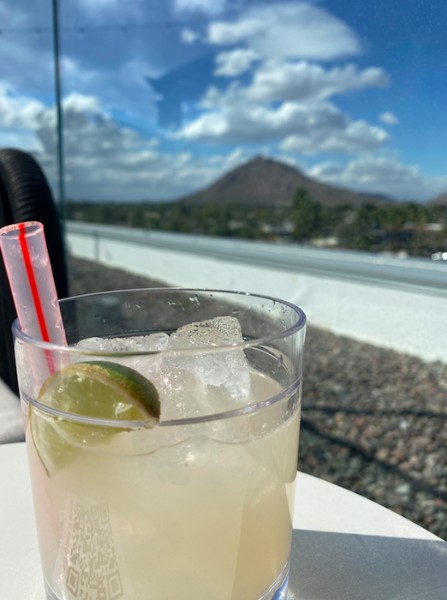 DAY ONE
First stop was the Canopy Hotel in Scottsdale. I chose this hotel because I wanted to be in oldtown and I love Hilton Hotels. I quickly changed and headed to the rooftop bar/pool. Of course of all weeks it was FREEZING there and calling for snow° perfect! I rallied. It was about 70 degrees, I did not swim but instead I indulged in the most delicious margaritas and ceviche I have ever had. The ceviche was made with papaya and spicy, crushed cashews. So good.
I took a sweet little nap then Niki came and met me around 6 or 7, who knows. It was so cool to finally meet. We hugged and popped the champs right away. Then, we walked to a local burrito bar and legit ate our weight in burritos since ceviche was all I had all day. I was starved. We double fisted margs, and somehow got pretty (enter IDK emoji) got pretty tispy. We hailed a golf cart, cause that is what they do there and he took us to the hotel where we proceeded to get lost. HAHA it was a great first day.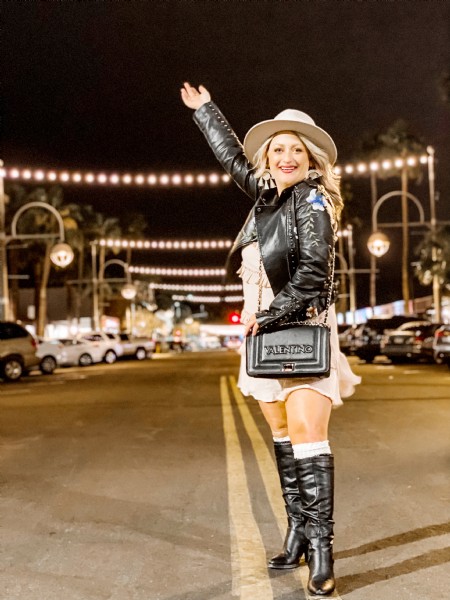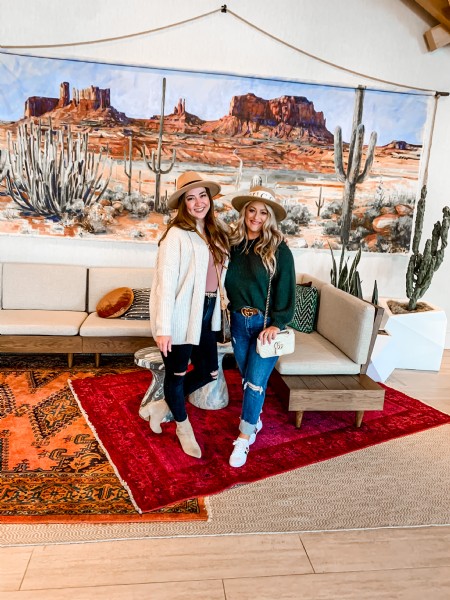 DAY TWO
We woke up and got glammed to go to brunch at HASH. They were on a 45 minute wait so we asked if we could get a drink at the bar, the guy said ok. So I saw two seats open and said well why don't we just sit here. So we did. And we ordered two spicy boodys° only to find out those seats were part of the wait. Haha oh well, too late now! We don't do "waits" apparently. We had a quick delicious breakfast and two drinks and left so someone else could snag our stolen seats. By this time we already needed naps. I don't know if you have been on vacation with time change but I do not handle it very well. I am constantly tired. I always get sleepy at 2 or 3p EST so around noon there I was beat.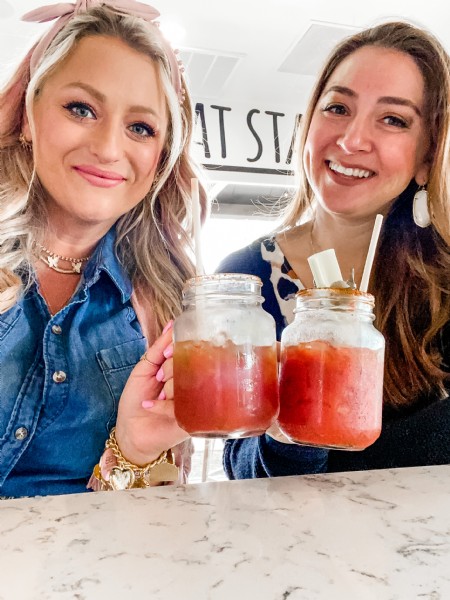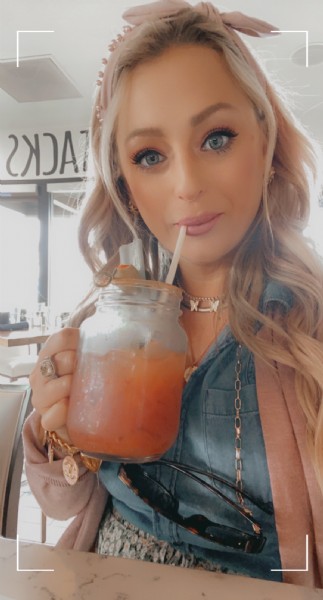 We laid down until about 3 and then walked up the street to a new place called "Unbaked". They have edible cookie dough and boozy smoothies.We got a small 4 scoop sampler of the dough and two drinks. Not bad. The drink was a little sweet for me, and I did not taste enough booze but a cool concept. We then walked to oldtown and found the cutest little rooftop bar. I just wanted to chill. In my older age chilling on vacation is way more my jam. We had some wine (it was 55 degrees and I was freezing) and just chatted for about 2 hours. We then went back to the hotel, explored there a bit then got ready for dinner across the street at a local sushi bar called RA Sushi. I am not sure if I was just drunk but that sushi was DAMN GOOD!! I would love to tell you after dinner we hit the town and kicked our feet up° we -- did -- not! I passed out early. Time change and wine just does not mix with me. Oh well, was a fun day regardless.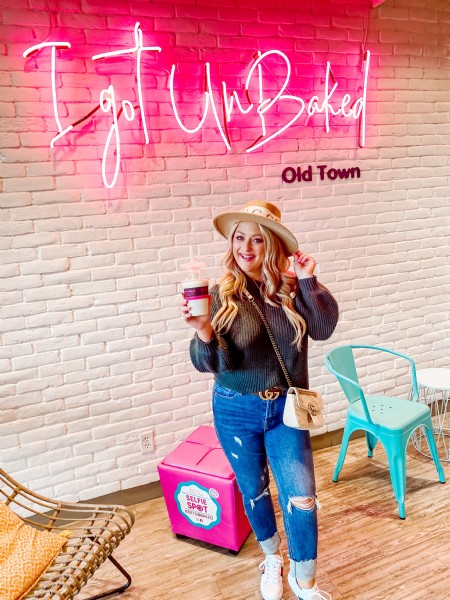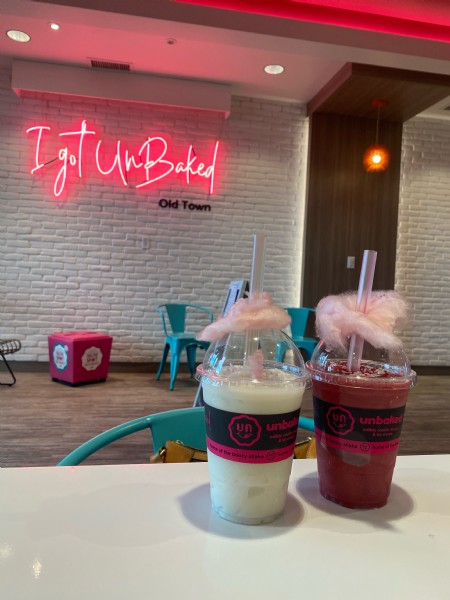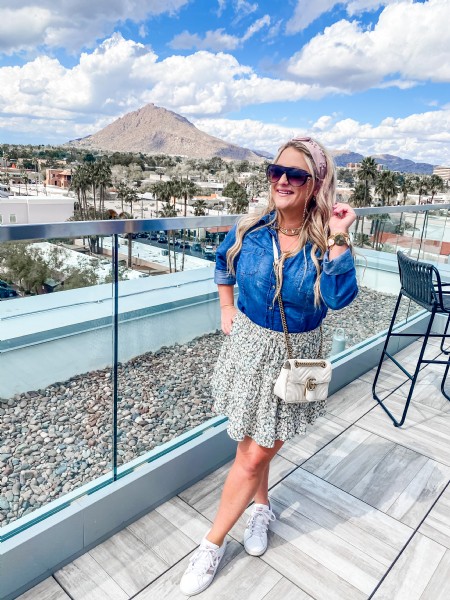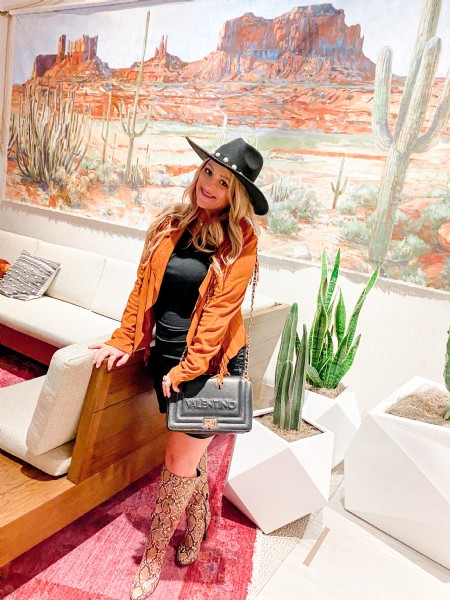 DAY THREE
Onto Sedona. Not before stopping to get a cute IG pic at the wall mural. We made a pit stop at Niki's then made our way to the snowy mountains of Sedona, AZ. It was rainy, cold and then snowy. But damn was it beautiful. Kind of strange but when I got up the mountain I felt a little sick from the altitude, bizarre but it does happen. We first stopped at a cute Mexican place for some soup, chips and of course a prickly pear marg. After we were warmed up, we checked into the airbnb which I was in love with. So quaint and different but had the most amazing views. A loft bedroom with snowy mountain views. We decided to unpack and throw back some wine before going to dinner at Mariposas. I enjoyed this. We were drinking wine, singing and cozying up under the mountains. Dinner was AH-MAZING. I don't have any photos because I was too busy eating haha. But highly recommended if you are in Sedona.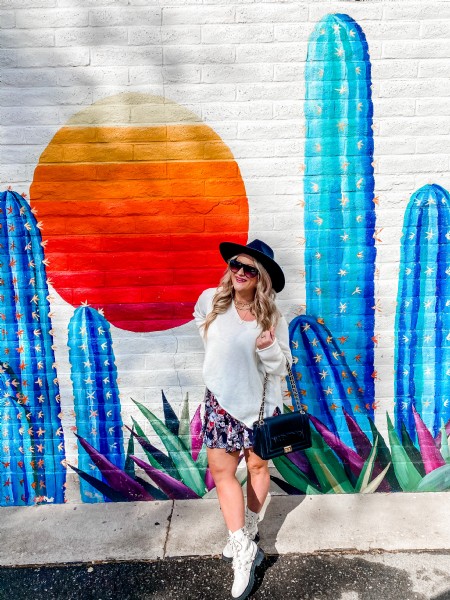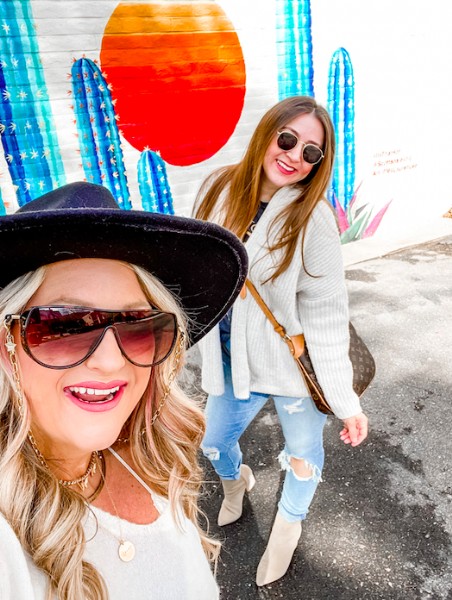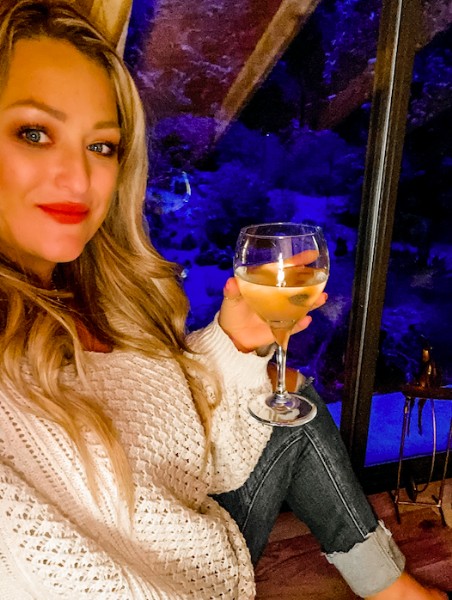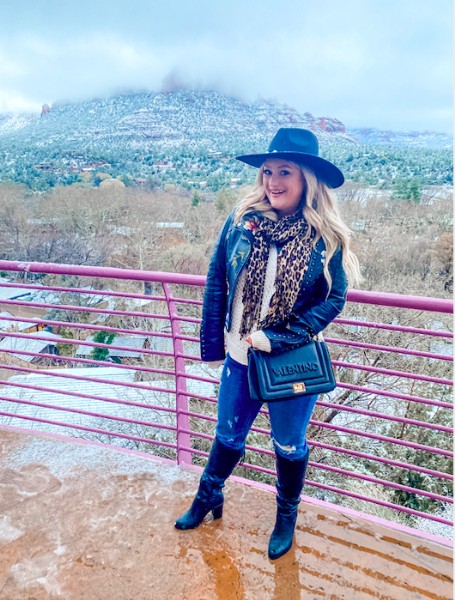 DAY FOUR
We packed up and walked the town a bit and grabbed some lunch before leaving. I again felt super sick. Not hangover sick, just a car sick feeling. It was hard to kick. We left and drove through some cool towns like Jerome, odd little place if you ask me. Then we took the scenic route back to Niki's through Prescott and some other little towns. It is very cool seeing different areas of the country. Driving through the mountains was absolutely breathtaking and peaceful, even though I was still a little nauseous I thoroughly enjoyed the views. We got back to Niki's, watched Meghan and Harry interview and I went to bed early of course, and headed home the next morning. The time change sucked. I was at the airport at 8am CST and got home at 5pm EST. BLAH. But it was worth it. It was a great trip but whenever I leave and go somewhere else, coming home is the best because it reminds me how much I love where I live. I love being on the water, I love the weather and I just know I am where I am supposed to be.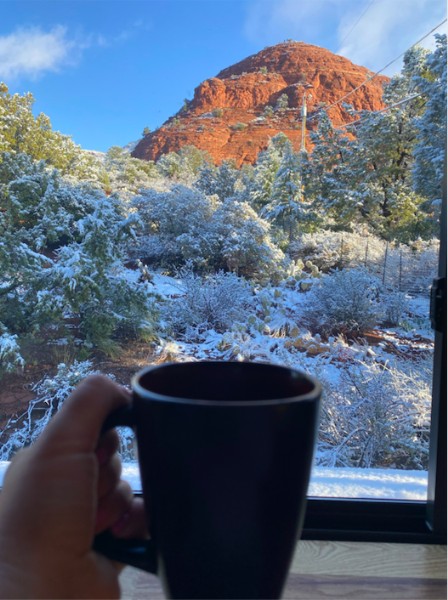 XO, Cheers
Jenn